March 2017
March 27, 2017. How The System Fails RAD Children. Reactive Attachment Disorder is defined as "serious condition in which an infant or young child doesn't establish healthy attachments with parents or caregivers. Reactive attachment disorder may develop if the child's basic needs for comfort, affection and nurturing aren't met and loving, caring, stable attachments with others are not established." Children who have been institutionalized prior to adoption are prey to this dreadful condition. The attached article explains how the system often fails these children and their families. Please click here.
March 23, 2017. U.S. Surrogacy Laws. With domestic newborn and international adoption becoming more difficult, many couples who cannot have children have turned to surrogacy. The linked to chart provides an interactive state by state map with details of gestational surrogacy law across the United States. Please keep in mind that these laws are constantly changing with several states considering enacting new laws or modifying existing ones. To access the chart, please click here.
March 22, 2017. Supreme Court Expands Definition of Special Education Rights. The Supreme Court unanimously ruled, in the Endrew v. Douglas County School District decision handed down today, that students with special education needs must receive better than "merely more than de minimis" education. That was the standard set by the U.S. Court of Appeals for the 10th District (Judge Gorsuch's region). As Chief Justice Roberts wrote for the court, "When all is said and done, a student offered an educational program providing 'merely more than de minimis' progress from year to year can hardly be said to have been offered an education at all...The IDEA [federal law in question] demands more...It requires an educational program calculate to enable a child to make progress appropriate in light of the child's circumstances." This ruling is of great importance to parents of special needs children, adopted or biological. To see more, please click here.
March 21, 2017. CDC and FDA Issue New Statements on Possible Zika Virus Transmission in Sperm Donors. This Bulletin, from the American Society for Reproductive 0new statements yesterday pertaining to Zika and sperm donation. CDC identified a potential risk of Zika virus transmission in semen beginning in June 2016. Originally limited to Miami-Dade County, CDC has now expanded the identified area of risk to include Broward and Palm Beach County. Acting on the new information from CDC, FDA issued a new statement as well, saying that "'HCT/P establishments may want to consider the new information from CDC regarding the potential increased risk of Zika virus infection in Miami-Dade, Broward, and Palm Beach counties and whether it affects your practices. Establishments may wish to take the type of tissue donation from donors and the risk factors for potential Zika virus infection in recipients into consideration.'" For More Information see ASRM BULLETIN, Volume 19, Number 10, March 14, 2017.
March 20, 2017. Why Doesn't This Outrage Lead to Common Sense on International Adoption? On March 8, at least 40 girls were killed at a state run facility for minors in Guatemala City called Hogar Seguro Virgen de la Asuncion. There are credible statements that that at least some of the girls had been locked in the building by policemen. This tragedy comes after years of sexual abuse and "punishments that amounted to torture" at the Hogar. The author of the linked New Yorker article dissects the waves of corruptionin infecting the Guatemalan government and looks to the U.N. Commission Against organized Crime and Impunity in Guatemala (known as CICIG) to help these children. CICIG, which has been in operation since 2006, has made it a major to end international adoption in Guatemala and it can claim victory--International Adoption from Guatemala has been shut down for almost a decade. This decision make sense from CICIG's pragmatic and ideological view. Pragmatic because shutting IA was something that could be fully accomplished quickly and with no fears of reprisals against CICIG staff. (By contrast, going after state corruption or trafficking will be less effective and carries the risk of assassination for officials and their families.) Ideologically, ending IA fits with a currently popular narrative which paints internationally adoptive parents as exploiters of poor women. How many of these children who died at the Hogar, whose birth parents could not take care of them, could have found a permanent, loving home if only their birth parents had been allowed to make adoption plans for their children? To read the New Yorker article, please click here.
March 16, 2017. Government and Other Notices: "Obtaining Citizenship or Documenting Acquired Citizenship for Adopted Children." The Department of State, having had many inquiries about citizenship for internationally adopted children, has posted helpful information on this topic on the DOS website. This news bulletin should be read by any adoptive parent who has not obtained a certificate of citizenship for their internationally adopted child. The DOS information may be accessed by clicking here.
March 15, 2017. Path-Breaking Study of Counseling For Birth Parents. The Donaldson Adoption Institute, together with various Texas professors of social work, has produced an excellent study entitled, Counseling Experiences in Adoption: A Qualitiative Analyis of First/Birth Parents and Professionals." Some of the key recommendations are:
"Mandate adoption agencies and adoption attorneys to develop and/or provide free access to pre- and post-relinquishment services for expectant and first/birth parents. These services should be inclusive of individual and family counseling provided by a licensed clinical professional. Additionally, these services should be made available for first/birth parents to access at any time post-relinquishment, as research suggests that some mothers delay accessing supportive services for several months or years.
Mandate that adoption agencies and adoption attorneys must provide expectant parents with a standardized, informed consent that details the possible outcomes associated with relinquishment of parental rights to a child for adoption, as well as potential outcomes that the child may experience.
Increase and standardize education for expectant parents, and prospective adoptive parents, about the strengths, limitations, and legalities of post-relinquishment contact, including the rights of adoptive parents to decrease or eliminate contact." More Information.
March 14, 2017. "I Was Rescued From a Chinese Orphanage. My Friend Wasn't." Today's headline is the title of a remarkable story of two physically disabled Chinese girls who grew up in a Chinese orphanage. The first, Ming, was adopted at age 12 by an American family. Chunchun was not adopted. Neither girl could walk, probably as a result of contracting polio, and in the orphanage disabled children didn't get any education. But Ming, who is wheel-chair bound, was able to catch up with her studies once she got to the United States, to triple major in Asian Studies, Chinese and International Affairs at the University of Oregon, to earn a graduate certificate in Disability Studies and a Master's degree in International Relations from the London School of Economics. When Chunchun was 14, she aged out of the orphanage area of the Social Welfare Institute where Ming and she had lived and was moved to the other half of the building, which houses old people. The girls kept in touch and Ming was able to visit her friend and bring her a wheelchair for which Ming had fundraised in her high school. Chunchun still lives in the SWI. It is estimated that close to 1,000,000 children are born in China each year with physical and mental disabilities. We cannot understand why there is any opposition to these children, who will not find families in China, will not receive proper care in China and will not be educated in China, being welcomed by permanent loving families in the United States. To read Ming's article, please click here.
March 13, 2017. Long Island Judge Grants" Tri-Custody." Suffolk County Supreme Court Judge H. Patrick Leis has granted joint custody of a ten year old boy to a Long Island couple, Dawn and Michael Marano and their downstairs neighbor, Audria Garcia. Garcia is the biological mother of the son. whose conception resulted from an affair between Garcia and Marano. The three adults had agreed to raise the child together and Dawn Marano's insurance covered the pregnancy. Judge Leis cited last summer's New York Court of Appeals decision allowing nonbiological or adoptive parents to seek custody as well as his conversations with the boy who, the Judge decided, viewed both women as his mothers. More Information.
March 9, 2017. Arkansas Bill Would Prohibit Commercial Surrogacy And the Enforcement of Surrogacy Arrangements. A bill has been introduced into the Arkansas General Assembly that would prohibit all commercial surrogacy arrangements in that state and also render any surrogacy agreement unenforceable in the State of Arkansas, whether or not that agreement was entered into in that state. This is not the only bill pertaining to surrogacy which has been recently introduced in a state legislature but it is the most restrictive one. To read the text please click here.
March 8, 2017. Adoptions in Australia: 2015-2016. Here is graphic evidence of the decline in international and domestic adoption in Australia, mirroring the trend in the United States. Source is http://www.aihw.gov.au/adoptions
Adoptions in Australia, 2015-16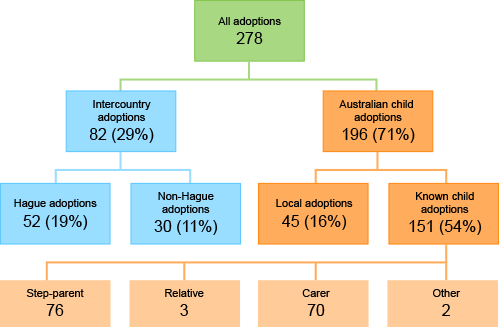 74% decline
in adoptions in Australia in the last 25 years.
March 7, 2017. Poland Apparently Is Ending Most International Adoption. The Department of State has posted a notice about the Polish government's restructuring of international adoption. The Polish government has decided to prioritize domestic adoptions, except in the case of intercountry adoptions of siblings related to children already adopted through intercountry adoption, intrafamily adoptions, and adoptions by Polish citizens living abroad." Moreover, DOS informs prospective adoptive parents that "It is unclear how these intended changes will impact intercountry adoptions from Poland sought by U.S. citizen families that are already in process, but in cases in which referrals have not yet been received, parents may see extended delays. The actual impact and form of these changes is still to be determined..." We are not surprised by this development because first, Poland has a lower birth rate than even China and second, the current Polish government is a nationalistic government with little interest in pro-globalization policies. More Information.
March 6, 2017. Silicon Valley Hack Foster Care Summit. Last week a group of foster youth, philanthropists, social workers, policy makers, entrepreneurs, and tech leaders met at Microsoft's Mountain View, California offices to try to create new solutions to the on-going problem of foster care in the U.S. The tech sector representatives discussed the applicability of "design thinking, a model to generate ideas collaboratively and think outside the box. . .or using the pillars of building empathy, defining a problem, 'ideating' possible solutions, prototyping, testing and iterating better designs - to address challenges within foster care." As Yali Lincroft, program officer at the Walter S. Johnson Foundation and long-time advocate for foster youth, explained, "The true success of the summit will be measured by what happens after it's over and how people respond to its calls to action." More Information.
March 2, 2017. The State of the State Department. As we go forward into this new political year, it becomes evident how different the day to day working of the federal government is at this moment. This article discusses the disarray in the Department of State, which affects international adoption because DOS is the central authority for the United States for international adoption. Michele Bond, Assistant Secretary of State for Consular Affairs, one the individuals fired by the Trump administration, had direct responsibility for international adoption. To read the article please click here.
March 1, 2017. Government and Other Notices: Peru. The Department of State has posted the following information: "Adoption Notice: Peru Ends Temporary Suspension of Adoptions. According to the Peruvian government, the temporary suspension of adoptions to the United States announced in September 2016 is no longer in effect. Delays continue to be reported; the Department continues to monitor the situation." The actual notice may be found by clicking here.

Center for Adoption Policy (CAP)
168A Kirby Lane
Rye, New York 10580
(914) 925-0141